Three Ways to Identify Risky Backlinks
28/05/2016
In 2016, most website owners are aware that there are certain SEO link building techniques that are no longer viable. Not only will they fail to increase a site's search engine results page (SERP) rankings, but they could actually lead to the site being penalised or de-indexed.
So what defines a 'bad backlink'? Simply put, a bad backlink is one that violates Google's Webmaster Guidelines.
Here we outline four key characteristics endemic to dodgy backlinks.
1. Links coming from unrelated websites.
When generating backlinks, it's important that they are placed on websites that are relevant to the theme of your site. When browsing through your backlink profile, keep an eye out for URLs that appear off-topic; there's a good chance they'll need to go.
This is a key feature of private blog network (PBN) links, as websites used in PBNs generally have random domains; the link builder then fills the website with random blog posts and includes links to 'money sites' (i.e. your business website) in the text.
<p.Below is an example of a link placed on an irrelevant site (i.e. a link for an SEO company placed on a seemingly random website).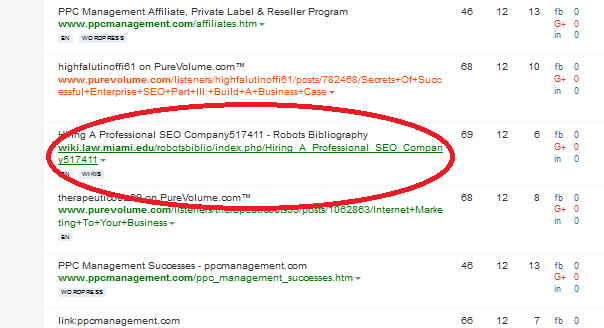 Links coming from unrelated sites – particular PBN sites – place your website at risk of penalisation.
2. Links that are placed using over-optimised anchor text.
When placing links on other sites, it's important to keep direct match anchor text to a minimum (some would argue you're best not to use it all). Google isn't a fan of direct match anchor text – especially when it is out of context, or there are multiple links coming from the one domain.
The below example shows direct match anchor text being used in a blog post; as you can see, the direct match anchor text has been included in the sentence despite the fact that it doesn't actually make sense.

3. Links that are generated via forum signatures.
Placing links in forum signatures was once a viable link building tactic; however in 2016 the benefits are less assured.
Keyword-stuffed forum signatures have been out for a long time. In addition, Google also takes issue with large volumes of automatically generated backlinks that occur in a short space of time – an issue that can crop up with forum signatures. Unfortunately, it's possible to accidentally acquire thousands of forum signature links very quickly. If you have a link in your forum signature and are a regular forum user, that link can spread like wildfire – and this isn't always a good thing.
Below is an example of a forum signature link.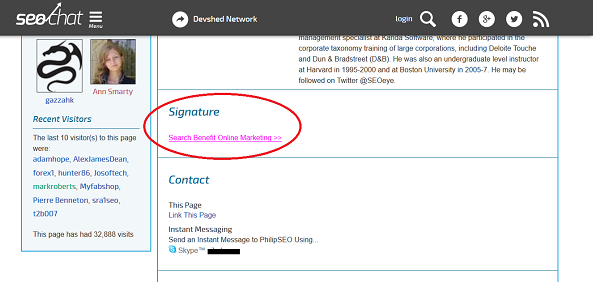 If you believe that your site has acquired a ridiculous amount of links due to your forum signatures, either remove the link in these signatures or set them to 'nofollow' if possible. The "ultima ratio" would be to disavow them.
It's important to keep a check on your site's backlink profile via a platform such as Ahrefs and / or Majestic. If you come across links to unrelated websites, find large numbers of links that utilise direct match anchor text or discover thousands of signature links leading to the one forum, it may be time to take action – before Google beats you to it!